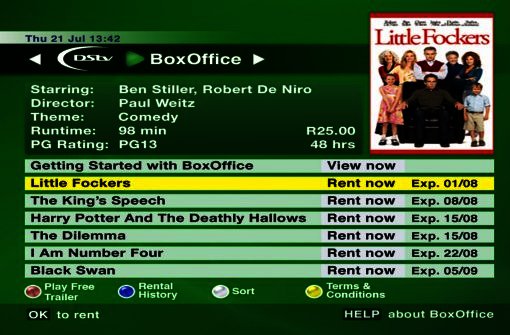 Last week, MultiChoice officially launched a movie rental service for Nigerians. The service is called BoxOffice and according to what we gathered, it was aimed to provide subscribers of DSTV with the ultimate in home television entertainment. BoxOffice allows subscribers to rent and watch the latest blockbuster movies in the comfort of their homes, right on their DStv Explora decoders.
The major advantage according to the tv house is that Box Office will solve the problem of piracy for Nigerian movie makers. if movie makers give their movies to DSTV to rent to viewers on DSTV, it does not need to go through marketers anymore and will no longer be sold on the street. It will only be on Box office. That ways copies cannot be made illegally.
(more after the cut)
As good as this plan is, there are some holes in it. First of all, movies can only be sold on one type of decoder alone, the Explora. So only a few people can rent movies on Box office. Also films can only be rented for just 48 hours after which you will have to rent it all over again if you want to watch it again, or did not have time to watch it the first time. All these limitations might make it unattractive for Nigerians to buy into the format.
However, Mr. Martin Mabutho, General Manager, Marketing and Retention, MultiChoice Nigeria tried to allay some of the fears. According to him the format is just on the Explora decoder for now, and there are plans to get Box office on their other decoders. He also talks about the pricing. For now, renting a movie costs N400, opposed to buying a film on the street for N300. "Look at it as watching a film at a cinema, a new film at the cinema is over N1,500. We are giving you the opportunity to see the same film for just N400. We did a research and we came up with a price quite higher than N400, but we decided to come down on the price so that more people can rent it."
There are also concerns that Box office may on the long run promote piracy instead of curbing it. In the course of renting a film some unscrupulous elements might record the film, make copies and flood the streets with them. Though Multichoice promises that the process is well guarded against copying, there are always new devices in the market that counter such measures. There are television sets in the market today that can copy anything that appears on the screen.